Unlock Business Growth in Botswana: Crafting Your Ultimate Digital Marketing Strategy
Welcome to the digital era, where the landscape of marketing is constantly evolving, especially in vibrant markets like Botswana. In this bustling economy, understanding how to create a digital marketing strategy is not just beneficial—it's essential. Whether you're a local startup, an established business, or an entrepreneur looking to make your mark, mastering the art of digital marketing can set you on a path to unparalleled growth and success.
But where do you start? And how can you ensure that your strategy is not just effective, but also tailored to the unique needs and opportunities of the Botswana market? That's exactly what we're here to explore. In this comprehensive guide, we'll delve into the key components of a successful digital marketing strategy, share insider tips, and provide actionable steps to help you navigate the digital world with confidence.
To give you a glimpse of the digital landscape in Botswana, DataReportal's Digital 2023 report offers invaluable insights. With 1.95 million internet users and a 73.5% internet penetration rate, the potential for digital marketing in Botswana is immense. Social media usage is also on the rise, with 1.10 million users recorded in January 2023. Understanding these trends is crucial for crafting a strategy that resonates with your audience.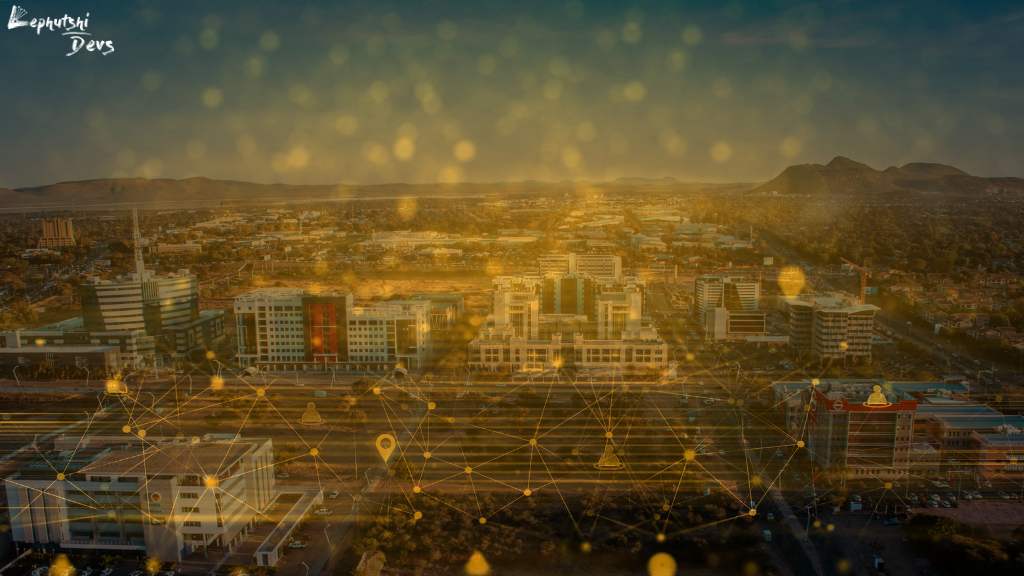 What is Digital Marketing?
As we dive deeper into the world of digital marketing, it's crucial to grasp what it truly entails. Think of digital marketing as your online megaphone—it helps you shout out your message to the world, or more specifically, to your target audience in Botswana.
In simpler terms, digital marketing is all about using the internet and various online tools to promote your products or services. It's a broad field, covering everything from social media posts and email campaigns to search engine optimization (SEO) and online ads.
But what's the deal with digital marketing companies? What role do they play? Well, these companies are like your personal online marketing gurus. They know the ins and outs of the internet and have the tools and knowledge to help you navigate through it. They work with you to create a plan that fits your business and helps you connect with your audience in the most effective way. If you're curious to learn more, Neil Patel's guide on digital marketing is a great place to start. He breaks down the topic in an easy-to-understand way, helping you get a grip on what digital marketing is all about.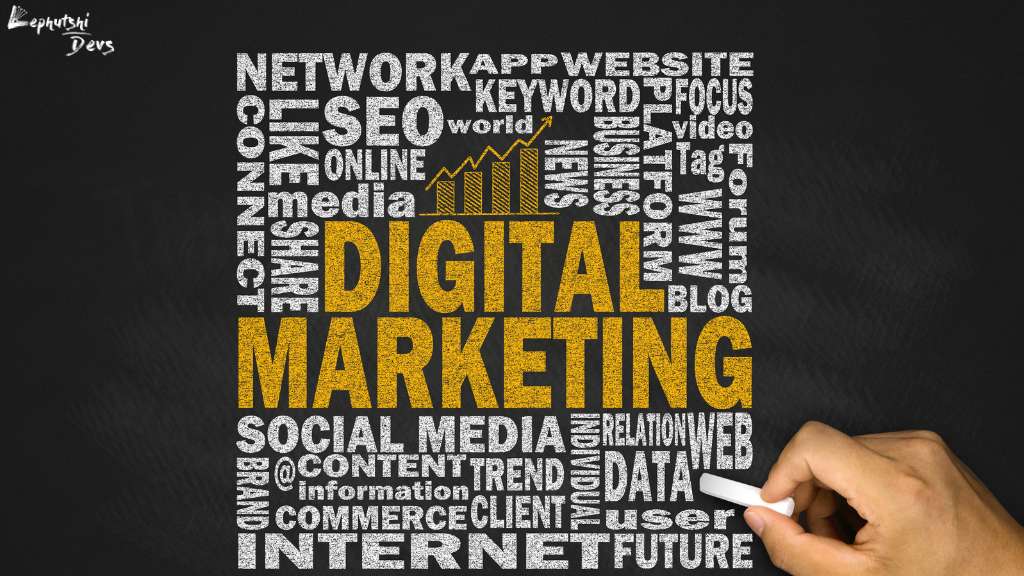 The Digital Landscape in Botswana
Now that we've got a grip on what digital marketing is, let's zoom in on Botswana's unique digital landscape. Understanding the local online environment is crucial for crafting a strategy that truly resonates with your audience.
In 2023, Botswana is more connected than ever. With internet penetration growing rapidly, a significant portion of the population is online, presenting a golden opportunity for businesses to reach their audience through digital channels. Social media usage is on the rise, and platforms like Facebook and Twitter have become integral parts of daily life for many Batswana.
But it's not just about being online; it's about understanding how your audience in Botswana interacts with the digital world. What platforms do they use? What content resonates with them? These are the questions that need answers. And for that, you need data. DataReportal's Digital 2023 report on Botswana provides a comprehensive snapshot of the current digital trends in the country, offering valuable insights to guide your strategy.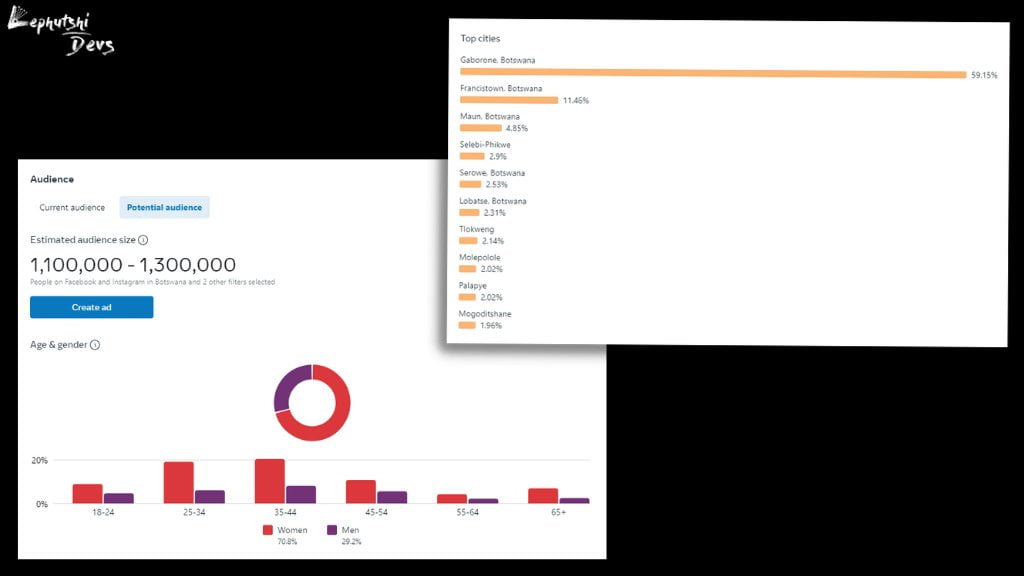 Why Every Business Needs a Digital Marketing Strategy
As we navigate through the digital terrain of Botswana, one thing becomes crystal clear: having a robust digital marketing strategy is not just an option—it's a necessity. It's the compass that guides your online efforts, ensuring that every post, ad, and campaign is aligned with your business goals and resonates with your audience.
A well-thought-out strategy does wonders. It boosts your brand visibility, connects you with your target audience, and ultimately, drives conversions and growth. It's like having a roadmap in the digital world, helping you make informed decisions and stay ahead of the competition.
But don't just take our word for it. Let's look at some real-life examples right here in Botswana. Choppies, a leading supermarket chain in Southern Africa, has harnessed the power of digital marketing to expand its reach and connect with customers online. Through targeted social media campaigns and a user-friendly website, they've created a strong online presence, driving sales and enhancing customer engagement.
Another success story is Yarona FM, a popular radio station in Botswana. By integrating digital marketing into their strategy, they've managed to increase their audience engagement and create a buzz online, further solidifying their position in the market.
Crafting Your Ultimate Digital Marketing Strategy
Embarking on your digital marketing journey without a strategy is like setting sail without a compass. It's crucial to have a clear plan in place to guide your efforts and ensure they align with your business goals. Let's break down the key components of crafting your ultimate digital marketing strategy in Botswana.
a. Setting Clear Objectives
Start by defining what you want to achieve. Are you looking to increase brand awareness, generate leads, or boost sales? Having clear objectives sets the stage for your digital marketing efforts, providing direction and purpose.
Tip: Make your goals SMART – Specific, Measurable, Achievable, Relevant, and Time-bound. For example, instead of just aiming to increase website traffic, set a specific goal like increasing website traffic by 30% in the next six months.
b. Understanding Your Audience
Knowing your audience inside out is the foundation of any successful marketing strategy. Invest time in market research and create detailed buyer personas. Understand their needs, preferences, and online behavior to tailor your messages and connect on a deeper level.
Tip: Use tools like surveys, interviews, and social media analytics to gather data about your audience. For instance, if you're targeting young professionals in Gaborone, find out which social platforms they use most and what type of content they engage with.
c. Choosing the Right Digital Marketing Channels
Not all digital channels are created equal. Depending on your objectives and audience, some will be more effective than others. Dive into SEO to increase your visibility on search engines, leverage PPC for targeted advertising, embrace social media to build a community, and utilize email marketing to nurture leads.
Tip: Don't spread yourself too thin. Focus on channels that are most likely to reach your target audience and align with your goals. For a B2B company in Botswana, LinkedIn might be more effective than Instagram.
Content is king in the digital world. Focus on creating engaging, relevant, and valuable content that resonates with your audience. Whether it's blog posts, videos, or social media updates, ensure your content aligns with your brand and adds value to your audience.
Tip: Create content for your audience, not yourself. For example, at Lephutshi Developers, we realized that many Batswana are searching for "How to create a digital marketing strategy," which led us to create this comprehensive guide.
e. Monitoring and Analytics
A strategy is only as good as its results. Implement monitoring and analytics tools to track your performance. Analyze the data, understand what's working and what's not, and be ready to adjust your strategy for continuous improvement.
Tip: Set up goals in Google Analytics to track conversions and understand how users are interacting with your website. Regularly review your performance and adjust your strategy based on the insights gathered.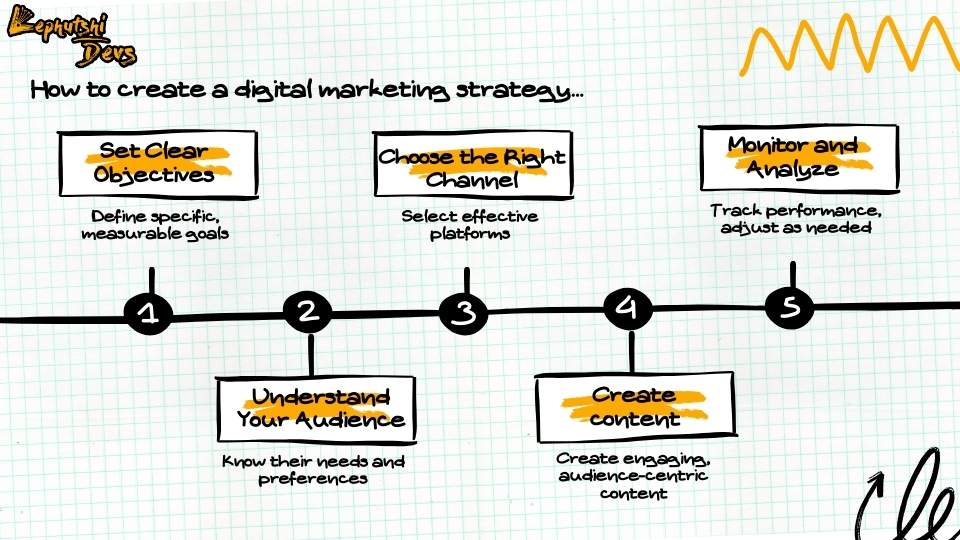 Aligning Your Digital Efforts: Strategy vs. Plan
Now that we've laid out the blueprint for a robust digital marketing strategy, it's time to delve into the role of a digital marketing plan. Many people use the terms 'strategy' and 'plan' interchangeably, but they serve different purposes in your digital journey.
Difference between Strategy and Plan
A digital marketing strategy outlines your business goals and the audience you aim to reach. It's your long-term vision. On the other hand, a digital marketing plan is about the tactics you'll use to achieve those goals. It's your action plan, detailing the steps you'll take, the channels you'll use, and the timeline for your efforts. Understanding the difference between a digital marketing strategy and plan is crucial for aligning your efforts and ensuring success.
Steps to Create a Cohesive Plan that Aligns with the Strategy
Define Your Tactics: Based on your strategy, list out the specific tactics you'll employ. Will you use social media advertising, content marketing, or email campaigns? Be precise.

Allocate Resources: Determine the budget, tools, and team members required for each tactic. Ensure you have everything you need to execute your plan effectively.

Create a Timeline: Establish a timeline for your plan. When will each tactic be implemented? Having a schedule keeps you on track and ensures timely execution.

Set KPIs and Metrics: Define key performance indicators (KPIs) and metrics for each tactic. How will you measure success? Ensure your KPIs align with your overall strategy.

Monitor and Adjust: As you implement your plan, monitor the results. Are you on track to achieving your goals? Be prepared to adjust your tactics as needed for optimal performance.
Aligning Your Digital Efforts: Strategy vs. Plan
As we wrap up this comprehensive guide, it's clear that crafting a precise digital marketing strategy and plan is paramount for any business looking to thrive in today's digital landscape, especially in a vibrant market like Botswana. A well-thought-out strategy provides direction, ensuring that every marketing effort is aligned with your business goals. Meanwhile, a detailed plan turns that strategy into actionable steps, guiding you through the execution of your digital initiatives.
At Lephutshi Developers, we specialize in navigating Botswana's unique digital landscape, providing expert guidance and tailored solutions to enhance your online presence and align it with your business goals. Embark on your digital marketing journey with us, and let's elevate your business to new heights together. Whether you need advice, assistance, or are ready to amplify your digital presence, we are here for you. Leave your questions or suggestions below, share this guide, and let's achieve digital success together.
Navigating Digital Marketing in Botswana: Your Questions Answered