How to Advertise Online for Free: A Guide for Botswana Businesses
In the bustling digital landscape, the quest to stand out and reach your target audience can often feel like an uphill battle, especially with tight budgets. But what if we told you that there's a way to advertise online without breaking the bank? Yes, you read that right! Whether you're a startup in Gaborone, a family-run business in Francistown, or an entrepreneur in Maun, there are proven strategies tailored just for Botswana businesses that can skyrocket your online visibility without costing a dime.
Dive into this comprehensive guide to discover the secrets of free online advertising and unlock growth opportunities exclusive to our vibrant nation. Let's embark on this journey to maximize your digital potential!
The Power of Free Advertising
In today's digital age, the notion that "you get what you pay for" doesn't always hold true, especially when it comes to advertising. While paid advertising campaigns have their merits, free advertising avenues can be equally potent, if not more so, when executed with precision and strategy.
Think about it: consumers are constantly bombarded with ads, to the point where they've become adept at tuning out overtly promotional content. This is where free advertising shines. By offering genuine value, building trust, and fostering organic engagement, free advertising can create lasting impressions and foster loyal customer relationships. It's not just about reaching a vast audience; it's about reaching the right audience and resonating with them.
The potential of free advertising is not just a theoretical concept; it's a reality that many businesses in Botswana are beginning to embrace. By tapping into these cost-effective strategies, local businesses can navigate the complexities of the digital realm with ease and assurance. It's about understanding the nuances of your audience, delivering content that speaks to their needs, and building a brand presence that's both authentic and impactful. In a world where every pula counts, the transformative power of free advertising offers a pathway to not only save on costs but also to achieve unparalleled growth and success.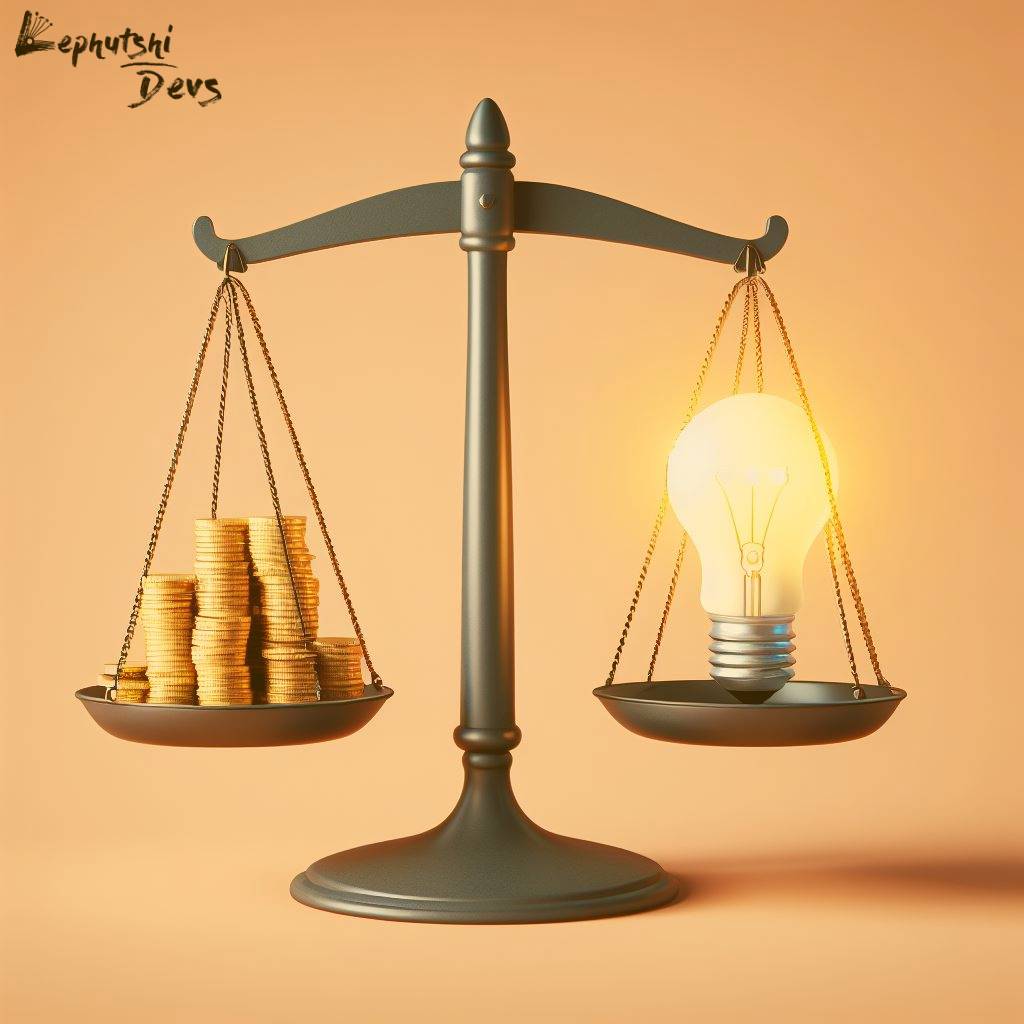 Proven Strategies for Free Online Advertising
In the vast world of digital marketing, there are countless ways to promote your business. However, not all methods require a hefty budget. Let's delve into some tried-and-true strategies that can boost your online presence without costing a dime:
1. Social Media Platforms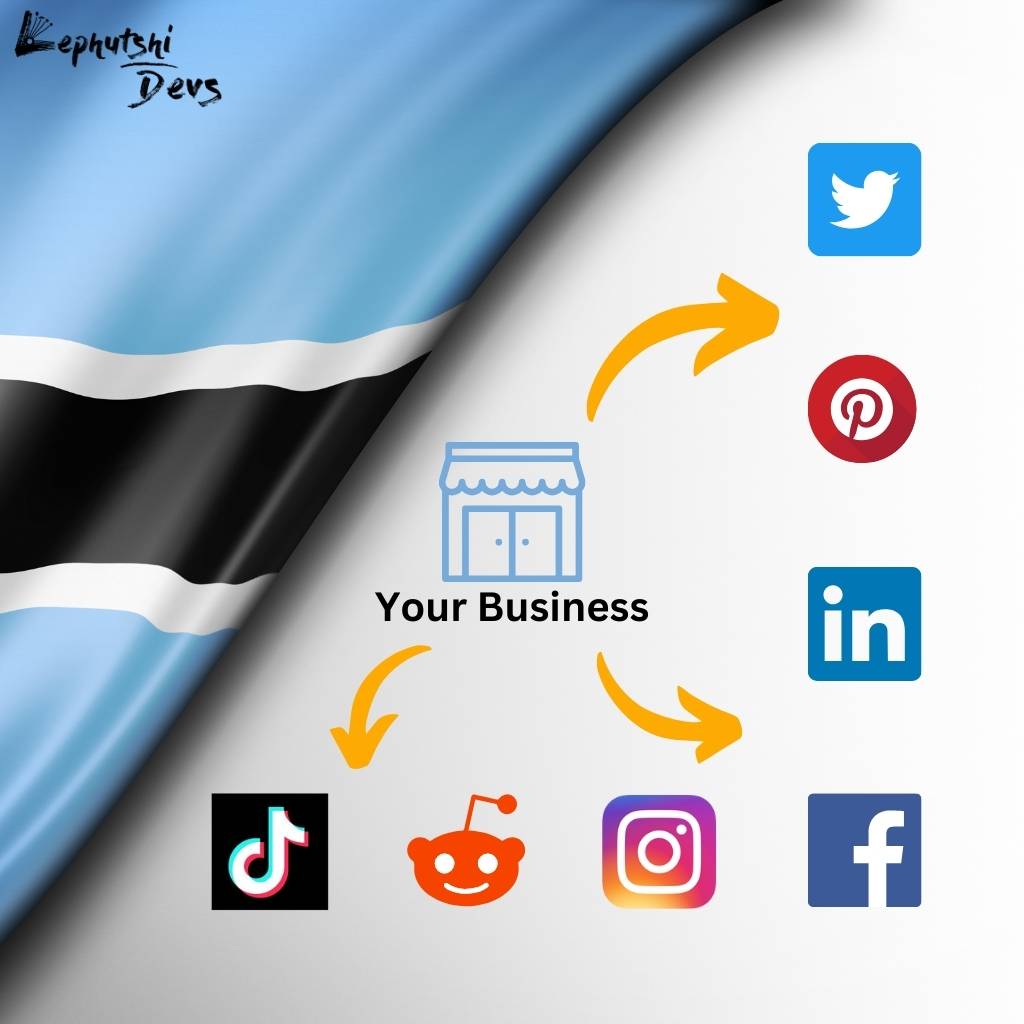 In today's digital age, social media isn't just for sharing vacation photos or catching up with old friends. It's a goldmine for businesses, especially when you're on a tight budget. Let's dive into how you can harness the power of social media platforms for free advertising.
Facebook: With its vast user base, Facebook offers a unique opportunity for businesses in Botswana. Create a business page, share regular updates, and engage with your audience through comments and messages. Remember, it's not just about selling; it's about building a community around your brand.
Instagram: A picture is worth a thousand words, and on Instagram, it could be worth a thousand customers! Showcase your products, share behind-the-scenes glimpses, and use relevant hashtags to increase your visibility. Instagram Stories are a great way to engage with your audience in real-time.
LinkedIn: Often overlooked, LinkedIn is a powerhouse for B2B businesses. Share industry insights, company news, and engage with other businesses in Botswana. It's a platform where professionalism meets opportunity.
Twitter: The real-time nature of Twitter makes it a fantastic platform for instant engagement. Share news, updates, and engage in trending topics relevant to your industry. Use Twitter polls to gather feedback, and retweet positive customer testimonials. Remember to use relevant hashtags, and don't shy away from jumping into local Botswana trends to increase your brand's visibility.
Tips for Success:
Consistency is Key: Regular posts keep your audience engaged and your brand top-of-mind.
Engage, Don't Just Broadcast: Respond to comments, ask questions, and create polls. Make your audience feel heard and valued.
Use Local Hashtags: Incorporate local hashtags relevant to Botswana to increase your local visibility.
Share User-Generated Content: Encourage your customers to share their experiences with your products or services and repost them. It builds trust and showcases real-life testimonials.
Remember, while these platforms offer free advertising opportunities, the real investment is your time and creativity. And if you ever feel overwhelmed or unsure about your social media strategy, don't hesitate to reach out for expert guidance. The benefits of a well-executed social media strategy are immense, and with the right approach, you can unlock growth like never before!
2. Local Business Listings
In the digital realm, visibility is everything. If your business isn't easily discoverable online, you're missing out on countless potential customers. Local business listings are a powerful tool to enhance your online presence, especially for businesses in Botswana. Let's explore how you can leverage these listings for maximum impact.
Google My Business (GMB): GMB is a free tool from Google that lets businesses manage their online presence across the search engine. From displaying your business hours to showcasing customer reviews, GMB offers a plethora of features. But how can you make the most of it? We've got you covered! Our eBook, "Unlocking Google My Business: A Botswana Small Business Guide", provides step-by-step guidance tailored for Botswana businesses. Dive deep into strategies, tips, and best practices to optimize your GMB listing. Download the eBook now and start your journey to dominate local search results!
Lephutshi – Botswana's Premier Business Directory: Why limit your business to just one platform when you can expand your reach? Lephutshi is an exclusive online directory for Botswana businesses. By listing your company on Lephutshi, you not only increase your online visibility but also position your brand in a trusted community of local businesses. It's simple, user-friendly, and designed with Botswana businesses in mind. List your company on Lephutshi today and be part of a growing network of successful businesses!
Benefits of Local Listings:
Enhanced Visibility: Make it easy for potential customers to find you online.
Trust and Credibility: Being listed on reputable platforms boosts your business's credibility.
Increased Engagement: Directly interact with customers through reviews, queries, and feedback.
SEO Boost: Improve your website's search engine ranking with quality backlinks from trusted directories.
Take Action Now! Don't miss out on the immense benefits of local business listings. Download our exclusive eBook and get started with Google My Business. And remember, Lephutshi is more than just a directory; it's a community. Join Lephutshi and connect with a network of thriving Botswana businesses. Your next big opportunity might just be a click away!
Content marketing is more than just writing articles and sharing them online. It's about creating valuable content that resonates with your audience, drives traffic, and ultimately converts readers into customers. And guess what? You're experiencing it right now!
The Power of Blogging: This very blog post you're reading is a prime example of content marketing in action. We've crafted this guide to provide you with valuable insights into online advertising, and in doing so, we're showcasing our expertise in the digital marketing realm. By delivering valuable content, we're building trust and positioning ourselves as industry leaders. And the best part? You can do the same for your business!
Why Blogging Matters:
Drive Traffic: Regularly updated blogs with quality content can significantly boost your website's traffic.
Establish Authority: Sharing industry insights and knowledge positions your brand as an expert in the field.
Engage Your Audience: Blogs provide a platform for businesses to connect with their audience, answer questions, and address concerns.
The Synergy of Blogging and Web Development: A well-written blog post is only as good as the platform it's presented on. That's where our web development and design expertise comes into play. We create visually appealing, user-friendly, and responsive websites that ensure your content looks its best and provides an optimal user experience. A professional website not only enhances your content's presentation but also improves its discoverability through search engines.
Benefits of a Professional Website for Blogging:
Improved SEO: A well-optimized website boosts your content's search engine ranking.
Enhanced User Experience: Fast loading times, mobile responsiveness, and intuitive design keep readers engaged.
Increased Conversions: With clear call-to-actions and easy navigation, turn your readers into loyal customers.
Take the Next Step! If you're looking to leverage content marketing for your business, start with a solid foundation—a professionally designed website. Whether you're just starting out or looking to revamp your existing site, our web development team is here to help. Reach out to us and let's create a website that not only showcases your content but also drives results.
Remember, content marketing is a journey, not a destination. It's about building relationships, establishing trust, and delivering value. And as you've seen with this blog post, when done right, it's a powerful tool to market your services and grow your business.
4. Collaborations and Partnerships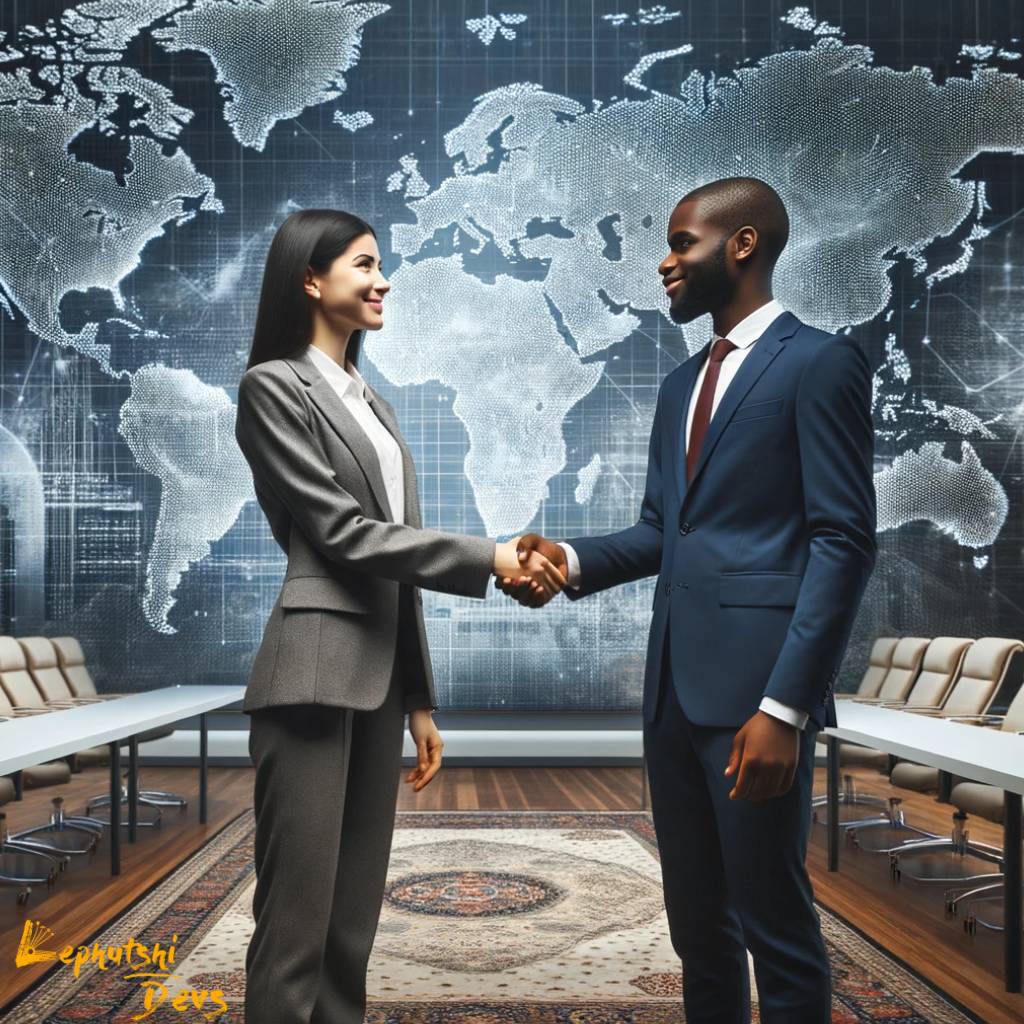 In the realm of digital marketing, the power of collaborations and partnerships cannot be overstated. By joining forces with like-minded businesses or individuals, you can amplify your reach, tap into new audiences, and bolster your brand's credibility. Here's how Botswana businesses can harness the potential of collaborations and partnerships for free online advertising:
Local Business Collaborations: Partner with local businesses in Botswana that complement your offerings. For instance, if you run a cafe, collaborate with a nearby bookstore for joint promotions or events.

Guest Blogging: Offer to write guest posts for reputable blogs in your industry. This not only positions you as an expert but also drives traffic back to your website through backlinks.

Social Media Takeovers: Partner with influencers or businesses with a significant following and take over their social media for a day. Share insights, promotions, or behind-the-scenes looks at your business.

Joint Webinars: Host webinars with industry experts or complementary businesses. This allows you to tap into their audience and offer combined value.

Affiliate Marketing: Create an affiliate program where partners can earn commissions for promoting your products or services.

Cross-Promotions: Engage in mutual shout-outs or promotions with businesses that share a similar target audience. This can be done through newsletters, social media posts, or even joint events.

Community Engagements: Partner with local community events or charities. Sponsor an event or offer your products or services for free in exchange for promotion.

Feature Collaborations: Collaborate with other businesses or influencers to create a unique product or service offering, exclusive to both your audiences.

Trade Services: Offer your services in exchange for another business's services. For instance, if you're a web developer, design a website for a local photographer in exchange for professional photos for your portfolio.

Leverage Online Platforms: Use platforms like Lephutshi to find potential partners or businesses interested in collaborations.
By embracing collaborations and partnerships, businesses can create a win-win situation, maximizing exposure without the need for a hefty advertising budget.
Email marketing remains one of the most effective digital marketing strategies, boasting impressive ROI and the ability to directly engage with your audience. For Botswana businesses looking to harness the power of email marketing, here's a brief overview and some essential tips:
Build Your List: Start by collecting email addresses from your customers, website visitors, and social media followers. Offer incentives like discounts or exclusive content to encourage sign-ups.

Segment Your Audience: Not all subscribers are the same. Segment your list based on purchase history, interests, or engagement levels to send targeted and relevant emails.

Craft Engaging Content: From newsletters to promotional offers, ensure your content is valuable, relevant, and engaging. Use compelling subject lines to increase open rates.

Optimize for Mobile: With a significant number of users checking emails on mobile devices, ensure your emails are mobile-friendly.

Analyze and Adjust: Use analytics to track open rates, click-through rates, and conversions. Adjust your strategy based on these insights for better results.

Stay Compliant: Adhere to email marketing regulations and always provide an option for subscribers to opt-out.
For those keen on diving deeper into the world of email marketing, we highly recommend our comprehensive guide, Email Marketing Mastery for Botswana Businesses. This blog post offers a detailed roadmap for businesses in Botswana to navigate the nuances of email marketing effectively.
Additionally, if you're searching for a reliable platform to kickstart your email marketing journey, Mailchimp is a top choice. Through our referral link, you can access exclusive features and benefits tailored for your needs.
Why Engaging with Lephutshi Developers is Your Next Best Move
Navigating the digital marketing landscape can be overwhelming, especially with the constant evolution of tools, strategies, and best practices. At Lephutshi Developers, we understand the intricacies of this realm and are here to guide Botswana businesses every step of the way. Here's why reaching out to us can be transformative for your business:
Tailored Solutions: At Lephutshi Developers, we recognize that every business has its unique challenges and goals. By engaging with us, you'll benefit from strategies crafted specifically for your brand and audience.

Stay Ahead of the Curve: The digital world is fast-paced. Our team ensures you're not only updated with the latest trends but are also among the first to implement them, giving you a competitive edge.

Expert Guidance: Avoid the trial-and-error approach. Our seasoned experts will steer you clear of common pitfalls, ensuring your digital marketing efforts are streamlined and effective.

Maximized Returns: We're committed to ensuring every pula you invest yields optimal returns. From refining your ad campaigns to enhancing your content strategy, we've got you covered.

Build a Partnership: Beyond just a service provider, we aim to be your trusted partner. Together, we'll forge a path to digital success, celebrating every milestone along the way.

Efficient Resource Utilization: Save precious time and resources. With Lephutshi Developers by your side, you can focus on what you do best, while we handle the intricacies of digital marketing.

A Competitive Advantage: In today's saturated market, standing out is crucial. Engage with us, and let's position your business at the forefront of your industry.
For Botswana businesses aiming for digital excellence, the choice is clear. Engage with Lephutshi Developers, ask the pressing questions, and let's collaboratively chart a course to unparalleled online success.
In the dynamic world of digital marketing, opportunities abound for businesses that are willing to adapt, learn, and implement effective strategies. As we've explored in this guide, there are numerous avenues for Botswana businesses to advertise online without breaking the bank. From harnessing the power of free advertising and leveraging social media to diving deep into email marketing and forging impactful collaborations, the possibilities are vast and promising.
However, while these strategies offer immense potential, their true efficacy lies in tailored execution. Every business is unique, and a one-size-fits-all approach may not always yield the desired results. This is where expert guidance and personalized solutions come into play.
At Lephutshi Developers, we're committed to helping Botswana businesses navigate the digital realm with confidence and expertise. Whether you're just starting out or looking to refine your existing strategies, our team is here to assist every step of the way.
So, as we wrap up this guide, our final call to action is clear: Don't let the potential of free online advertising pass you by. Embrace these strategies, implement them with precision, and watch your business thrive in the digital age. And if you ever find yourself in need of expert assistance or a tailored solution, don't hesitate to request a quote. Let's embark on this digital journey together and achieve unparalleled success for your business.
Unlocking Free Online Advertising: FAQs for Botswana Businesses